How to Create a DIY Pay-Per-Click (PPC) Campaign for Your Law Firm
If you're seeking fast growth as a law firm, consider a pay-per-click campaign to gather more leads.
Advertising in the legal industry was once considered taboo, but the landscape has adapted to consumer behavior. People use the internet to find service providers nowadays; if your law firm isn't doing some kind of digital marketing, it probably needs to start. One digital marketing strategy employed by law firms is known as pay-per-click (PPC) advertising. Paid search accounts for 27% of website traffic on the entire internet! Needless to say, it's a great way to capture leads and capture them fast.
Many firms hire agencies to handle PPC and other digital marketing needs. However, these agencies do not come cheap. If you're a small firm or a solo practitioner, you might not want to pay those costs. To help you navigate your firm's foray into digital marketing, we're here to provide a brief primer on how to set up a PPC campaign.
PPC advertising is a broad and complex arena. You're probably here because you aren't prepared to pay an agency and you want to go it alone. Kudos to you, but we won't have enough real estate to give you an entire PPC management strategy here. As far as some practices and strategies, we will touch on those. This is meant to give you the basics of PPC as well as a start in crafting your own campaigns.
What Is PPC and Why Use It?
You've seen PPC ads before; they're everywhere. They live in your Google search results, in your social media feeds, and just about anywhere else you can imagine. If you were to search for "lawyers near me" right now, you'd see some ads at the top of your results for local law firms.
PPC is generally used to accomplish two things: establish brand awareness and generate leads quickly. If you're looking to boost your profile in the community and sign some fresh clientele in a hurry, PPC could be a useful strategy.
Is PPC Appropriate for My Law Firm?
This all depends on the services your law firm provides and the clientele you serve. Are you a corporate law boutique serving high net worth individuals and investment funds? PPC is probably not for you. This type of client is more likely to have high levels of legal sophistication and rely on direct referrals for counsel. Are you a personal injury law firm looking to build your pipeline? Or perhaps a family law firm? PPC can help with that. PPC can help B2C models such as personal injury cast a wide net and pull in more leads. Generally, B2C legal services models such as personal injury, workers compensation, family law, and debtor-side bankruptcy all stand to benefit from PPC campaigns.
Ultimately, you'll have to determine your target audience and ideal clients, and make the decision based on that.
What's the Difference Between PPC and SEO?
You've probably heard about search engine optimization (SEO) as another marketing strategy. A brief explanation of the distinction between SEO and PPC. In broad strokes, PPC is the "short game" and SEO is the "long game." SEO is the organic improvement of the quantity and quality of the traffic to a particular website. As opposed to PPC, which directs paid traffic to a site, SEO focuses on development of content geared toward improving a site's ranking on Google, thus making it more likely to show up higher on searches for particular keywords. We will address SEO in another post. For now, back to PPC.
How to create your PPC campaign on Google Ads: Step-by-step instructions
Now that you know what PPC is, what it's not, and why you might use it, let's discuss how to set up a campaign and some key considerations to help you maximize its value. While there are plenty of places that allow for PPC advertising (Facebook, Twitter, LinkedIn, etc.), Google still reigns supreme. It's most people's first stop when searching for professionals.
Let's start with basics. Go to https://ads.google.com. You can sign in with an existing Google account or create a new one.
1. The Keyword Planner
Google has an insanely powerful tool known as the Keyword Planner. Keywords are the backbone of any PPC campaign (or SEO campaign for that matter). While Google does not make it very easy, you can use this tool without actually creating a campaign--you only need a Google account. The Keyword Planner can be found here. Here is a great guide to using it without setting up a campaign.
The Keyword Planner shows you all sorts of valuable information, including:
what keywords are being searched;
where searchers are located;
keyword search volume;
price ranges for keywords;
competition for keywords.
It will even suggest keywords based on the ones you input. Once you're there, go to "discover new keywords," and give it a shot. Here's a look at the interface with some example keywords typed into the gray box at the top left of the screenshot: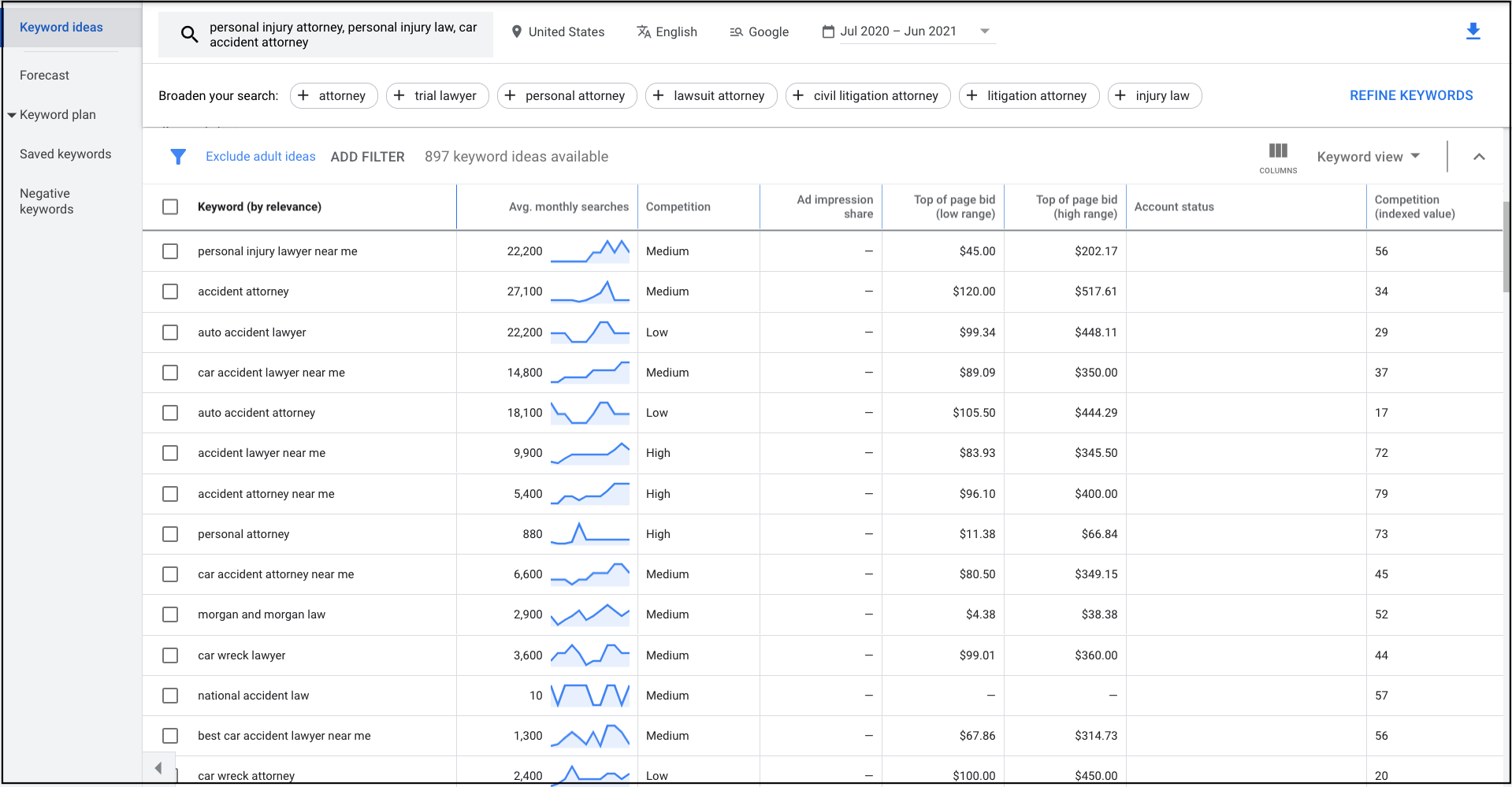 As you can see, lots of information. But what do we do with it?
2. Create Your Campaign Around "Long-Tail" Keywords
Long-tail keywords are words or phrases that are more specific and longer than more often-used keywords. Why use long-tail keywords? Less competition, cheaper clicks, and more cost-effective campaigns.
For example, let's say you're a personal injury attorney in Denver, Colorado. Per the Keyword Planner, the key phrase of "personal injury attorney" in Denver averages 390 monthly searches in Colorado--not a lot. This is probably because the big injury shops are willing to bid up to $510 (!) per click. Additionally, there will be plenty of paid results for these keywords. It's hard to make your ad stand out from the rest, even if you were willing to spend a lot per click. By doing so, you risk high attrition from your website with searchers who are confronted with so many options when they search. Bottom line, don't simply "spray and pray" with high-dollar keywords. You will spend more and convert less.
But you're here to learn about DIY strategies, so let's talk about lean solutions and not expensive roadblocks. An example of a long-tail keyword phrase targeting car accident victims might be "best personal injury attorney near me." This only has 20 monthly searches in Colorado. However, competition is low, and clicks are cheaper. The searchers finding their way to your site will be bombarded with fewer options upon arrival. You want quantity over quality.
The Keyword Planner can be used for finding long-tail options. Also, you might try Ubersuggest.
3. Create Your "Keyword Plan."
As you compile keywords, check the boxes next to the ones that you plan to use. Once you check at least one box, an overlay will appear prompting you to add them to a new plan. Fill in the required information and add them to a new plan.
4. Create Your Campaign.
Click on the "Create Campaign" button in the top right of the screen from your Keyword Plan. You will, at this time, have to specify a campaign name and budget.
5. Create Your Ads.
Time to get the creative juices flowing. You'll have the option to choose a responsive search ad or a text ad. For a more in-depth discussion on which is "better," punch "responsive vs. text ads" into Google, and you'll have plenty of results to review. Fill in your headlines and descriptions, and you've got your first PPC ad (provided, of course, Google approves the content).
I Made an Ad...Now What?
Now, it's time to make sure you convert that traffic into genuine leads, and convert those genuine leads into genuine clients. The best way to do this? Make sure your landing page (the place you direct traffic from the ad) gives visitors something to hook them. Have a clear value proposition for your visitors. There are a little more than 1,350,000 attorneys in the United States. What makes you and your firm stand out? Free consultations? Humans answering the phone? Representative experience? People come to lawyers for answers, so make sure your visitors know you can provide them.
One example of adding value to a firm's website is the AI-backed injury claim value calculated provided by CaseYak. A personal injury firm can put it on their website, and visitors briefly interact with the software to get a real case value estimate based on years of jury verdict data.
Now you know how to set up your very own PPC campaign. Happy hunting!
Enjoying these posts? Subscribe for more